Is it possible to get a teeth in a day?
Yes, of course. With advances in dentistry a new concept is evolving , that is "teeth in a day" where dental implants and crowns are given on the same day of the treatment.
Candidates to whom this concept is applicable?
One or few missing upper front teeth
Missing back which may be a molar or premolar
Missing or broken upper and lower front teeth
Shaking teeth with sufficient bone to place basal implants
Treatment sequence
First, clinical photographs, 2D and 3D (CBCT) x rays are taken. 3D xray shows the exact bone condition and which type of implant suitable fo you and depending upon that treatment is planned and consultation will be done
Then, implants are placed under computerised local anesthesia on the same day of consultation and digital scanning (digital impression) using intraoral scanners are recorded.
The recorded data is mailed to our lab and the teeth is milled using CAD CAM technology and delivered to us on the same day of the treatment and fixed in patients mouth
---
                       Before                                           After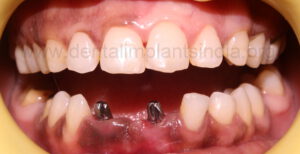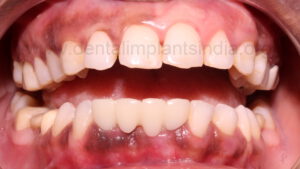 ---
For appointments CLICK HERE