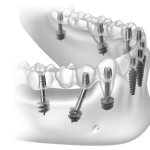 Basal implants are relatively new to the technology. They are considered to be a revolutionary method of fixing the teeth using dental implants. The highlight of these kinds of implants is that, they do not require bone graft and bone augmentation. Even most complicated cases can be done without bone graft and bone augmentation. The invention of basal implant made it possible to restore teeth even if there are no teeth.
Basal implants prompt the underlying bone and restore that natural bone structure while chewing. This can be fixed in 3-4 days after implant placement. Mainly, there are two types of basal implants:
Basal osseointegrated implants or BOI implants
BCS- basal cortical implants
BOI implants can be fixed using keyhole or flapless method. It does not always require surgery. They can be placed keyhole or flapless method. Basal implants have certain unique features that other implants do not have. They are:
They can be even placed areas with insufficient bone as they have such kind of special form and shape.
They can be placed in a single visit.
Do not require multiple injections and multiple surgical procedures
Less complicated and less time consuming
Now, if you wonder how these basal implants are placed, this is the way:
First, the dentist will prepare the patient's mouth for the implant. Anesthesia will be given after that using STA-Computerised injection system, which is absolutely painless and accurate. The planned teeth will be painlessly extracted after that. Implant will be placed using keyhole or flapless method. After placing the implant, the doctor will take digital opg-dental X-ray to check the accuracy and position. Prosthetic specialist will take impression. The dentist will also check the bite and jaw position. Fine tuning and other procedures will be done in the following days.
Basal implants are economical than the traditional ones. Placing them is not a risky task and doctors' work is also less. Even smokers can also get basal implants.
Basal Implants for Severe Periodontal Conditions
Basal Implants for Atrophic Bone Maxilla and Mandible