When there is complete pneumatization of the sinus, basal implants are placed by taking support from the tuberosity and the pterygoid bone. Conventional Two Piece Implantologists will ask their patients to undergo Sinus lifting or bone grafting procedures for placing implants in the molar region. Here in best Laser Dental clinic and Implant Centre , we are placing tubero pterygoid Implants to avoid sinus lifting and bone Grafting surgeries. We have been doing this for 8 to 10 years and the success rate is 98%. The implants are placed in the Tuberosity region and then into the pterygoid plates to gain stability . The bone in the Tubero pterygoid region is cortical in nature. The occlusion forces go to the Pterygo-maxillary buttress which is cortical in nature and the teeth can be loaded immediately . These implants are placed by flapless technique ( key hole technique ) and hence there won't be any bleeding .
Advantages of Pterogoid Implants :
1) Everyone can get implants as the bone is more stronger and cortical so it never resorbs . Implant breakage or Implant loosening can never take place.
2) Both 1st and 2 nd molars are replaced and the chewing efficiency will be 100%.
3) Tubero-pterygoid Implants completely avoids Sinus Lifting and Bone grafting procedures.
4) No Cantilevers from front teeth.
5) In full mouth rehabilitation patients , 14 teeth can be given in the upper jaw as the implants are placed in the most distal part of maxilla.
6) Teeth can be loaded Immediately.
7) No bleeding and swelling present.
Pre-operative Xray :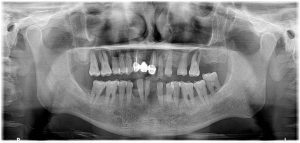 Patient comes with a complaint of missing teeth and unable to chew food. The patient gets the opinion from many other dentists and most of them suggest sinus lift and bone grafting procedure.
The patient's then come to us for our opinion and we suggest Basal Implants without bone grafting.
All the existing teeth were removed and 10 implants are placed in the upper jaw and 8 implants in the lower jaw .
Sinus region was avoided by placing Tubero-pterygoid. Implants were placed on either side.
Permanent Zirconia bridge was fixed on the 4th day.
Post–operative Xray :