A young male patient aged 26 years from Mumbai visited our clinic with a complaint of broken root canal treated teeth. On questioning about the past dental history, we came to know that the tooth was root canal treated 12 years back in a private clinic in Mumbai and a tooth-supported zirconium crown was given.
Now the tooth structure has fractured with the zirconium crown and he was having mild pain in that tooth. The patient wants a fixed permanent solution and to regain his smile back. Also, the patient told us that he is leaving for Mumbai the very next day and wants to finish his treatment in a couple of days at an affordable cost.
Clinical examination
              The tooth was painful on tapping and the surrounding gums were also painful on palpation around the broken root fragments
Radiographic examination  
           OPG and CBCT took revealed pus formation around the root tips of the infected tooth. We explained to the patient that root canal treated tooth was reinfected with pus formation and this was the reason for his pain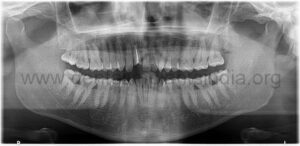 Treatment plan discussion
       After a complete examination, a treatment plan was discussed with the patient to extract his broken root canal treated teeth followed by replacement with basal dental implants under local anesthesia(painless anesthesia) in a day
Implant placement procedure 
          After getting written consent from the patient, under local anesthesia(STA- computerized painless injection) the tooth was extracted, after extraction gentle cleaning of the extraction socket was done to remove the pus followed by cleaning again. Finally, one dental implant was placed, and suturing was done to approximate the gums.

3D digital scanning 
   Digital scanning using imedit500 intraoral scanner (digital impression) was taken and the prosthesis(cad-cam crowns) was delivered on the same day.
Final outcome 
    After taking the digital impression, teeth(PMMA crown) of perfect shade and contour were delivered on the same day.
 The patient was happy with the final outcome, and we informed the patient to report us after 4 to 6 months to change his provisional crowns to permanent zirconium crowns when he returns backs to Chennai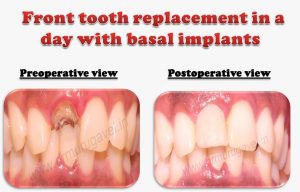 For further details  visit us
   http://www.dentalimplantsindia.org
 Mail us at :
Address:
no.1, 464, Mount Poonamalle High Rd, Iyyapanthangal, Near KFC, Next to Ashok residency hotel, Kamatchi Nagar, Venugopal Nagar, Porur, Chennai, Tamil Nadu 600056
Contact us at :
    +91-9600030601/044-43800059